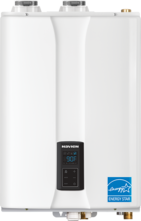 Whether you're looking for a residential or commercial heating system, a boiler provides a long list of benefits. Compact and energy efficient, yet reliable and able to combat the most severe weather, modern boilers allow more customized control over your indoor environment. Call on the professionals from C. Albert Matthews Inc. for a full range of boiler services in Easton, Maryland, including new installation, retrofit, seasonal maintenance, and prompt repair. We specialize in innovative Navien boiler systems. Navien boilers are condensed, taking up less space, while continuing to provide high quality performance. Combining a team of highly trained, NATE certified specialists with top quality equipment, we deliver greater value from your investment.
Boilers Trappe, MD | Boiler Service Denton, MD | Boiler Replacement Algonquin, MD
As a Carrier Factory Authorized Dealer, C. Albert Matthews Inc. offers you both superior products and more qualified service. Our team upholds strenuous standards of technical training, is regularly updated, and adheres to proven effective installation and maintenance procedures. We build long-term relationships with our clients through personalized attention and unwavering standards of job performance. Contact us at 410-822-0900 for further information, convenient scheduling and quick turnaround on your new installation project, retrofit, seasonal upkeep, or repair of all makes and models of boilers, including
combi boilers
, throughout Cambridge.
The Benefits of Boiler Heating
Some of the numerous benefits of boiler heating include:
Clean Heating – No new air is blown into the space, eliminating the introduction of dust particles and other allergens.
Enhanced Comfort – Heat is infused into the room, rather than supplied through ductwork and vents, offering a more gentle form of temperature control and more evenly distributed comfort.
Customized Heating – Zoning capability allows independent temperature setting in separate rooms or levels, optimizing comfort and energy savings.
Silent Operation – With operational noise confined to inside the boiler, the system never draws unwanted attention to itself.
System Longevity – With regular professional service and inspections, boiler systems tend to last and last and last, without costly malfunctions.
Top Quality Boiler Repairs, Maintenance & Installations in Cambridge
Boiler Service, Boiler Installation & Boiler Repair

Cambridge, MD, Trappe, MD, Denton, MD, Centreville, MD, Stevensville, MD & Saint Michaels, MD
Boiler Replacement Centreville, MD | Boiler Service Saint Michaels, MD | Boiler Maintenance Denton, MD
Boiler Replacement

∴

Boilers

∴

Boiler Maintenance ∴ Centreville, MD ∴ Saint Michaels, MD ∴ Trappe, MD