The Rheem Marathon Water Heater is the last water heater that you will ever have to buy. Its durability is unmatched amongst competitors. This water heater is the most reliable water heater ever made. Combine that with its lightweight, sleek design and simple installation, it is a no-brainer for homeowners.
Durability
Dry Fire Protection:
With the advanced mechanisms in the water heater, the heating elements only turn on when surrounded by water. This increases the longevity of the equipment
Patented Insulation Process
With 2.5" polyurethane insulation, heat loss is significantly reduced for greater overall energy efficiency
Seamless Plastic Liner
The Marathon water heater boasts a seamless, blow-molded plastic inner tank. This prevents rust and corrosion from forming on the equipment.
Strong Outer Shell
With multiple layers of filament wound fiberglass, the tank possess unparalleled strength
Lifetime Warranty
The Rheem Marathon Water Heater has a lifetime tank warranty. It is easy to see why so many customers prefer this water heater.
Warranty eliminates service calls from duarabilty issues
The last water heater homeowners will buy… Eliminates the costs of reinstalling water heaters every decade
The Rheem Marathon water heater has a FREE warranty upgrade from 10 yeats to Lifetime if customer registers online
This product design has been tested and proven since 1989
Installation made easy
This lightweight design makes for a hassle-free, low cost installation
Maintenance is made quick due to a bow-shaped tank bottom that drains completely with no anode rods to replace
Non-Metallic Tank
With a seamless, blow-molded polybutene inner tank, you can be sure that the tank will not rust
Due to its durability, the tank resists dents, scratches, and deterioration from salty air, a feature of the Eastern Shore of Maryland
Offers the best durability and reliability, withstanding and thriving in harsh conditions and eliminates smelly water due to chemical reactions with sulfates
High-Efficiency
2 1/2 inches of polyurethane foam insulation minimizes stand-by heat loss allowing only 5 Fin 24 hours. This saves a significant amount of money on the homeowner's energy bills
Cost-to-own becomes more important to customers as energy costs increase
What's Inside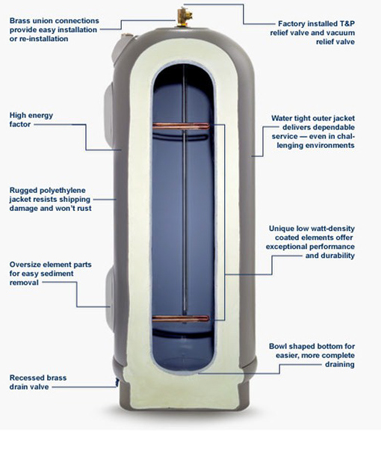 How Does it Compare?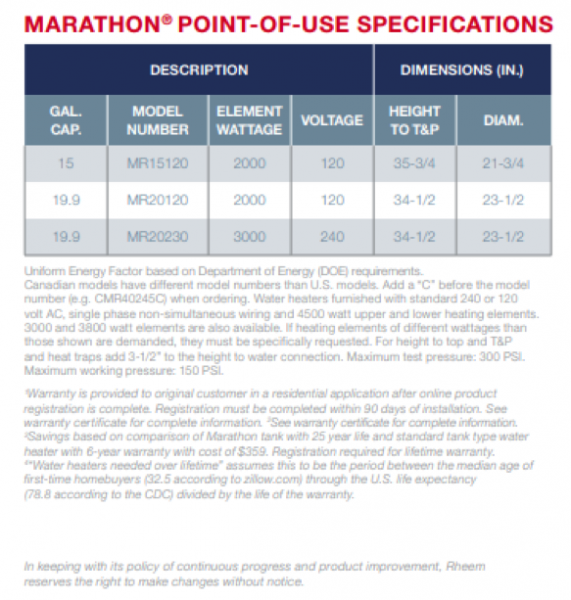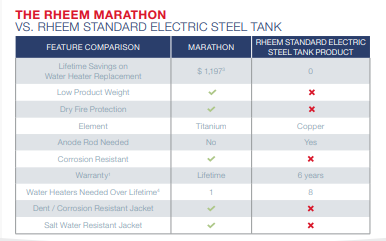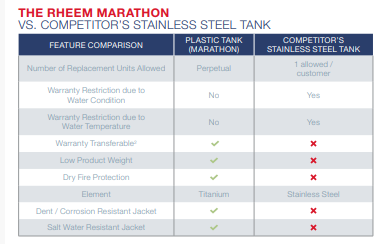 Standard Electric
Bradford White water heaters, the water heater that gets the job done right, every time. Made right here in America. These water heaters are easy to install, service, and maintain. They are designed to be the best choice for your water heater needs. Find out if the Bradford White Electric water heater is right for you.
Contact our specialist to see what model fits your unique situation!
Residential Water Heaters
Bradford White – the energy saver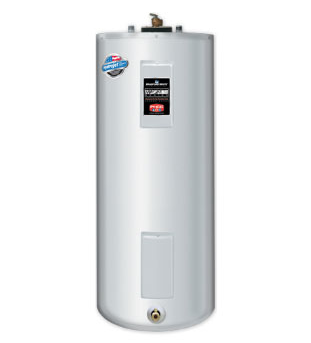 Tall Boy Upright Model
Equipped with fully automatic controls
Direct heat transfer with immersed elements
Hydrojet total performance system
Vitraglas lining
Non-CFC Foam Insulation
Water connections-3/4″ NPT
Heat Traps
Protective magnesium Anode Rod
Simultaneous and non simultaneous operation available
Available in a variety of voltages 120V, 208V, 240V, 277V, and 480V
Single phase and three phase operation (120V and 277V Single Phase Only)
T&P Relief Valve
Low restrictive brass drain valve
Design evaluated by ETL in accordance with part 280.707(d) of HUD Mobile Home Construction and Safety Standards for Energy Efficiency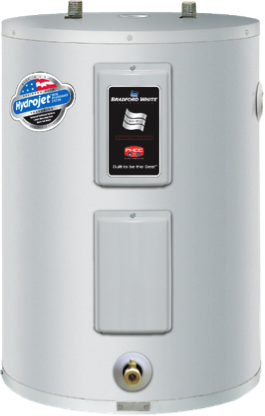 Low Boy Upright Model
Models above 20-gallon meet or exceed efficiency requirement
Equipped with fully automatic controls
Low restrictive brass drain valve
Direct heat transfer with immersed elements
Hydrojet Total Performance System
Vitraglas Lining
Non-CFC Foam Insulation
Water connections-3/4″ NPT
Heat Traps (excluding RE120L)
Protective magnesium anode rod
Both simultaneous and non-simultaneous operation available
Voltages available-120V,208V,240V,277V,480V
Single phase or three phase operation available (120V and 277V single phase only)
T&P Relief Valve—Side T&P is standard. Optional top T&P location is available
Design evaluated by ETL in accordance with part 280.707(d) of HUD Mobile Home Construction and Safety Standards for Energy Efficiency