The Navien NCB-E combi-boiler is one of a kind. It is the first high-efficiency combi-boiler with the capacity to supply heat and domestic water for larger homes, enough hydronic heat for the entire house, while also providing the hot water to run two showers and a dishwasher simultaneously. The Navien NCB-E does it all.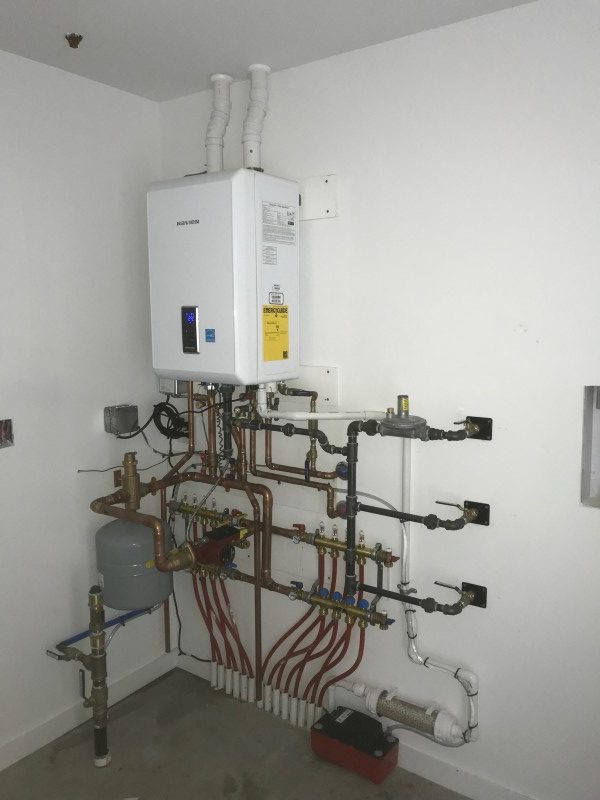 Sleek design saves spaces
Takes up 80% less space than a traditional floor standing boiler and storage tank
Linkability feature
For extremely high hot water flow demand, the NCB-E can be cascaded with other units
Dual inputs of up to 120k BTU/H for heating and 199k BTU/H for DHW
Will supply enough heat and domestic water for most house requirements
4.5 GMP at 77 degree temperature rise for domestic hot water
With a separate stainless steel flat plate heat exchanger for DHW, this creates the highest flow rate for any combi-boiler in the industry
Turn Down ratio of 6:1 for heating and 11:1 for DHW
The advanced gas flow control system provides a high turn down ratio, reducing wasted energy and unnecessary boiler cycling, all while enhancing temperature control for DWH
Dual stainless steel heat exchangers
Fights on the onset of corrosion better than copper to provide a longer lasting comfort
Field gas conversion
The Dual venturi system allows for easy field conversion from NG to LP. The orifice for LP conversion is included as well
PVC venting
Low exhaust temperatures allows for the use of PVC, CPVC, ULC S636 and polypropylene vent systems. This reduces installation time and increases efficiency. The system is capable of using 2" venting for up to 60 feet, or up to 150 feet with 3" venting
Low gas pressure
The negative pressure gas valve ensures peak performance even in a minimum gas pressure of 3.5" of water column
Ability to use existing 1/2″ gas piping
Save time and effort in retrofitting applications with ½" gas lines for up to 24 feet
It's what's inside that counts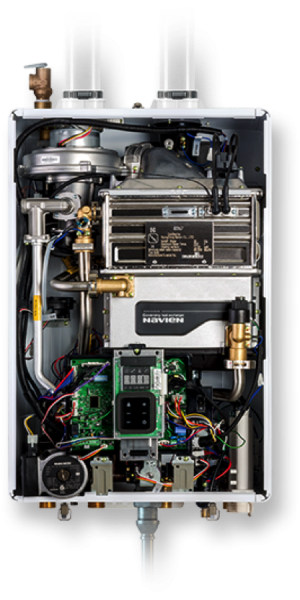 Features a pressure relief valve
2″ PVC schedule 40 capable up to 60′
2″ PVC air intake venting
Dual Venturi for easy field conversion
Stainless steel heat exchanger
2″ PVC air intake venting
Powder-coated enamel metal housing shell
Secondary stainless steel heat exchanger
Integrated control panel
Negative pressure gas valve
Stainless steel flat plate heat exchanger for domestic hot water
Integrated boiler pump
Negative pressure gas valve
Heating system auto fill
Domestic hot water inlet
Primary heating loop supply
Primary heating loop return
1/2″ gas pipe capable up to 24′


NavilLink can be easily connected in order to communicate with your Navien systems anywhere that internet service is available. The NaviLink module is easily attached to any new or existing Navien tankless water heater, combi-boiler and boiler.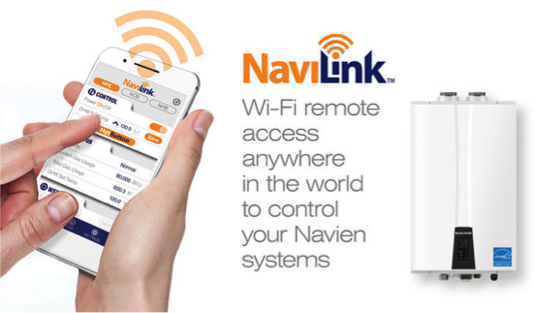 Available in four sizes
| | | |
| --- | --- | --- |
| Model | Heating BTU/H | DHW BTU/H |
| NCB-150E | 12,000-60,000 | 12,000-120,000 |
| NCB-180/NCB-180E | 14,000-80,000 | 14,000-150,000 |
| NCB-210/NCB-210E | 18,000-100,000 | 18,000-180,000 |
| NCB-240/NCB-240E | 18,000-120,000 | 18,000-199,900 |
Applications
Air handler/Hydronic Heating
Hydronic coils
Baseboard radiators
Radiant floors
Specifications
| | | |
| --- | --- | --- |
| | Item | NCB-240E |
| Gas Input | Space heating | 18,000 – 120,000 (BTU/H) |
| | Domestic hot water | 18,000 – 199,900 (BTU/H) |
| Flow rate (DHW) | 77°F (43°C) temp rise | 4.5 GPM (17.0 L/m) |
| Dimensions | | 17.0″ W x 28.0″ H x 12.0″ D |
| Weight | | 84.0lbs (38kg) |
| Installation Type | | Indoor wall-hung |
| Venting Type | | Forced draft direct vent |
| Ignition | | Electronic ignition |
| Hydronic water pressure | | 12.0-30.0 PSI |
| DHW water pressure | | 15.0-150.0 PSI |
| Natural gas supply pressure (from source) | | 3.5″ WC – 10.5″ WC |
| Propane gas supply pressure (from source) | | 8″ WC – 13″ WC |
| Natural gas manifold pressure (min-max) | | -0.06″ WC – -1.2″ WC |
| Propane gas manifold pressure (min-max) | | -0.03″ WC – -0.98″ WC |
| Minimum Flow Rate (DHW) | | 0.5 GPM (1.9 L/m) |
| Connection Sizes | Heating Supply/Return | 1″ NPT |
| | DHW inlet/outlet | 3/4″ NPT |
| | Gas inlet | 3/4″ NPT |
| | Auto feeder | 1/2″ NPT |
| | Condensate outlet | 1/2″ NPT |
| Power Supply | Main supply | 120V AC, 60Hz |
| | Maximum power consumption | 200W (max 2A) |
| Materials | Casing | Cold rolled carbon steel |
| | Heat exchanger | Primary/secondary heat exchanger: stainless steel; DHW heat exchanger: stainless steel |
| Venting | Exhaust | 2″ or 3″ PVC, CPVC, approved polypropylene / 2″ or 3″ special gas vent type BH (Class II, A/B/C) |
| | Intake | 2″ or 3″ PVC, CPVC, polypropylene / 2″ or 3″ special gas vent type BH (Class II, A/B/C) |
| | Vent clearances | 0″ to combustibles |
| Safety Devices | | Flame rod, APS, ignition operation detector, water temperature high limit switch, exhaust temperature high limit sensor, power surge fuse |
Ratings
Navien Combination Boiler Space Heating Ratings
| | | |
| --- | --- | --- |
| | Model 1 | NCB-240E |
| Heating Input, MBH | Min | 18 |
| | Max | 120 |
| Heating Capacity2, MBH | | 112 |
| Net AHRI Rating, Water3, MBH | | 97 |
| AFUE2, % | | 95 |
Other Specifications
| | | |
| --- | --- | --- |
| Water Pressure | | 12.0-30.0 PSI |